Synopsis
Nejla (Robin Lundberg) has an unlimited admiration for his uncle, Klemens (Peter Stormare), a solitary man who is taking care of his brother's small herd of reindeer after losing his own and falling on hard times. Klemens lives in close contact with nature and in tune with the changing seasons. Nejla would like to follow in his uncle's footsteps and live like him, but his parents put pressure on him to abandon this disappearing lifestyle. When the reindeer are viciously attacked by the wolf straying in the area, Klemens and Nejla react without regard to the law. The desire to protect their dwindling herd brings them into conflict with the rules of society, but forces Klemens to stand up for his nephew.
Technical Information
2008; Sweden; Family, Adventure; 86 minutes; 35mm, HDCAM-SR; 1.33:1 (4:3); Original Language: Swedish; Subtitles: English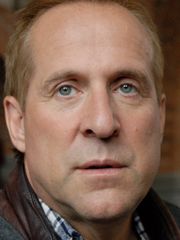 PETER STORMARE
Peter Stormare was one of Ingmar Bergman's chosen actors at the Royal Dramatic Theatre in Stockholm. For eleven years he played leading roles in Bergman's theatre productions. He also performed in his TV and film productions, among them Fanny and Alexander. In the early 90s Peter decided to stay in the US and make a career in films. His international breakthrough came through his ruthless portrait of a callous murderer in "Fargo" by the Coen brothers. After that he has played in a number of prominent Hollywood productions such as Armageddon, The Brothers Grimm, Minority Report, The Big Lebowski etc. with directors such as Steven Spielberg, John Woo and Terry Gilliam as well as in films by the Nordic directors Peter Naess and Lars von Trier. He has also appeared in a number of television productions, notably Prison Break as the mob boss John Abruzzi. His latest production in Sweden was Wolf, where he played the leading character Klemens. The script was written by the well known Swedish writer, Kerstin Ekman, and directed by Daniel Alfredson. Wolf won the Best Artistic Achievement award and the Ecumenical Prize at Montreal 2008.
Peter Stormare is the uncle of one of Corridor's directors, Johan Storm, and has always taken a keen interest in his nephew's career. When he read the Corridor script he insisted on being given a part in the film.
Selective Filmography
Feature Film
2013 The Last Stand
2013 Hansel & Gretel: Witch Hunters
2003 Bad Boys II
2000 Chocolat
1998 The Big Lebowski
1998 Armageddon
1997 The Lost World: Jurassic Park
1996 Fargo