Synopsis
"I've always played Gypsy Music, that's what my father taught me. But I would like to know where this music is from". Willing to discover the roots of Gypsy Music, famous Austrian guitarist Harri Stojka goes on a journey to Rajasthan, India, to meet local musicians and play with them. There, he encounters several artists using the most original instruments, and always eager to share the joy of playing. More important, he realizes that the Gypsy spirit is something that brings them together. After all, they speak the same language: the language of music.
Technical Information
2010; Austria, India; Documentary, Music; 91 minutes; 35mm, HDCAM-SR; 1:1.85; Dolby SRD; Original Language: English, German; Subtitles: English, French, German; Dubbed Versions: French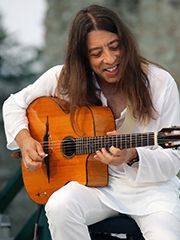 Harri Stojka's roots are from the Diaspora Lovara Roma, dynasty of the Bagareshthsi clan, which came from Wallachia 150 years ago. Born in Vienna in a family of musicians, Harri grew up listening to the Beatles, George Harrison, Frank Sinatra, Elvis Presley and of course traditional Roma songs. At six years old, his father offered him a plastic guitar, and Harri fell in love with the instrument.
During World War II the Stojka family had suffered under the empery of the Nazis. Although Harri and his sisters were born much later, they grew up with their parent's grief. The pain of the war is still palpable in Harri's music. Stojka's project 2005, Garude Apsa (meaning "hidden tears") commemorates the liberation from the terror regime 61 years ago. This production is dedicated to everyone who shed tears in the face of injustice. Sixty years after the liberation from the Nazi regime, this CD pays tribute to the musical roots of the Roma and gives today's generation, the children and grandchildren of the survivors, a sense of pride and courage for the future.
Harri Stojka's professional career began in 1970. He wanted to follow in the footsteps of his big heroes Pat Martino and Django Reinhardt. So he joined Karl Ratzer's band Gipsy Love as a bassist, and a short time later became a guitarist in Peter Wolf's Objective Truth Orchestra. After the band dissolved he founded the first Harri Stojka Express, the only Austrian group to have performed alongside Jimmy Cliff, Eric Burden, Van Morrison, and Carlos Santana at the Open Air Festival in the Vienna Prater Stadion. 2006, this recording (retitled A Tribute to Gipsy Swing) was re-released by Jochen Becker of ZOHO Music in New York. In Germany, renowned jazz legends nominated it for the German Music Critics Prize. For this formation, Harri Stojka engaged his old friend and companion Claudius Jelinek for rhythm guitar, Heimo Wiederhofer for snare, whisk broom, and cymbal, and Ivan Ruiz Machado for the contrabass. Harri and his band have performed at the most important festivals in the world, among which the legendary jazz festival in Montreux, where they played four concerts back to back, and the Khamoro Festival in Prague, the Sziget Festival in Budapest, the famous Django Reinhardt Memorial Festival in Augsburg, the Graz Jazz Festival, Syracuse Jazz Festival, Detroid Jazz Festival, New York Concerts, the Salzburg Jazz Festival, Jakarta Festival, many Concerts in Bali with invitation to play for the King of Ubud. Further invitations by the UTSAV Jazz Festival in Delhi and Goa in India and many others followed. In 2009 he played at the Jazz Festival Ngayogjazz in YogJakarta.
In 2010 Harri and his Gipsy Swing Ensemble spent five weeks on concert Tour in India and three weeks on tour in China.
Selective Filmography
Feature Film
2012 Amadeus Austrian Music Awards 2012
1982 Das Nest unter den Trümmern der Jahre
Feature Documentary
2008 Hansi Lang – Ich spielte Leben
TV Series
2006 Mulatschag
2002 Erlebnis Österreich
1995 Kulturzeit