Original Title: Hevisaurus
Synopsis
While staying at an amusement park with their class, 10-year-old Toni and his girl classmate Suvi discover the "Heavysaurs": a group of dino-like creatures that think of nothing but food and hard rock. The Heavysaurs are friendly, funny and know how to rock the stage – but they are kept in captivity by Maxim, a reckless entrepreneur who plans to use them for his business. Suvi and Toni have to fight together in order to save their rocking Jurassic friends.
Technical Information
2015; Finland; Family, Adventure; 85 minutes; DCP; 1.77:1 (16:9); 5.1 mix; Original Language: Finnish; Subtitles: English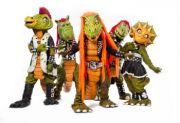 After attending a concert with Kids music with his young son, Finnish Metal musician Mirka Rantanen decided to found a Rock band for children. This was the birth of Hevisaurus – and the beginning of a Jurassic rock career par excellence.
The members of Hevisaurus – all famous personalities of the Finnish metal scene – perform their concerts in dinosaur costumes. Their lyrics and the music are suitable for children, as are the volume and the average length of a concert. The band has toured Europe and published several LPs: there have been Spanish, Hungarian and Swedish versions of Hevisaurus and a sheer amazing load of Hevisaurus franchise. Despite (or thanks to) its unusual appearance and target audience, Hevisaurus is without doubt one of Finland's most famous and commercially most successful music groups.