Synopsis
MIRAGE is a beautiful and tragic tale of a talented schoolboy driven to despair by bullying, neglect and betrayal set amidst the turmoil of modern day Macedonia…
Marko's world is collapsing around him. Gambling and alcohol poison life at home, while ruthless bullies make school unbearable.
When his teacher encourages the talented 12-year-old to enter a poetry competition which could win him a trip to Paris, he dreams of escaping from the weary world he has been born into.
As circumstances grow worse, Marko sinks deeper into his refuge of hopes and dreams. When he befriends a solitary soldier of fortune, Marko learns hard new lessons in how to survive, he must either "eat or be eaten". Ultimately, in seeking justice for a betrayal too bitter to swallow, Marko takes matters into his own hands.
Technical Information
2004; Macedonia, Austria; Drama, Youth; 104 minutes; 35mm, HDCAM-SR; 1:1.85; Dolby SRD; Original Language: Macedonian; Subtitles: English, French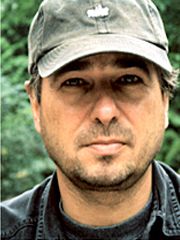 Klaus Hundsbichler's work falls into three areas: as director, editor and composer. He directed, edited and produced "Worldrevolution" and composed the music for "Midsummer Madness", "Karo und der liebe Gott" and "Mirage", as well as numerous industrial films and commercials. He edited "Midsummer Madness", "The Ten Commandments", which received an Emmy nomination for the editing and numerous music videos (Queen, David Bowie, Gianna Nannini, Falco) as well as – infamously – Frank Zappa's Baby Snakes movie. His directorial credits include "Tom und die Biberbande", "Against the Current" and a life of Johann Strauss, as well as many music videos, music documentaries and commercials.
Selective Filmography
Feature Film
2008 La Bohème
2006 Karo und der liebe Gott
2006 The Ten Commandments
2006 Tumsie briezi
2000 Bon Jovi: The Crush Tour
1999 The Venice Project
Feature Documentary
2008 Weltrevolution
1997 Baby Snakes