Original Title: L'enfance d'Icare
Synopsis
Jonathan Vogel (Guillaume Depardieu) would like to turn back the clock and undo the accident that led to his disability and destroyed his life. When he learns that Stivlas Karr (Carlo Brandt), a well-known professor and geneticist, has developed a gene therapy for regenerating the human body, he makes an appointment with him for some clinical tests. But the therapy doesn't go according to Professor Karr's plan and leads to unexpected results. Jonathan, whose life is now in danger, has become aware that there is only one person who can help him: Alice (Alysson Paradis), the professor's daughter.
Technical Information
2009; Switzerland, Romania, France; Drama, Sci-fi; 96 minutes; 35mm, HDCAM-SR; 1:1.85; Dolby SRD; Original Language: French; Subtitles: English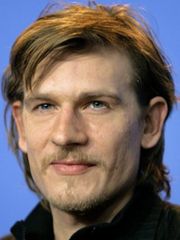 GUILLAUME DEPARDIEU
Revealed in 1992 in Alain Corneau's All the Mornings of the World, for which he learned to play the viola da gamba, Guillaume Depardieu's talent was confirmed in Pierre Salvadori's comedy, The Apprentices, in an amusing scene in which he skies down a staircase. Parallel to these comedies in which he was so brilliant, he was Josée Dayan's favourite actor in several of her TV productions (The Count of Monte Cristo in 1998, Castle in Sweden in 2008). 
He also played a tormented hero for Leos Carax and, more recently, a crazily in love army general for Jacques Rivette, a lost soldier for Serge Bozon and a homeless person in Pierre Schoeller's first feature. 
He was never better than in the extreme roles of marginal characters, played with a subtle panache, echoing his own personal borderline lifestyle.
Selective Filmography
Feature Film
2009 Au voleur
2008 Les inséparables
2008 De la guerre
2008 Versailles
2007 Peur(s) du noir
1999 Pola X
1995 Les apprentis
1991 Tous les matins du monde