Synopsis
After long online chats on the web with the Taiwanese Businessman, Mr Chang, Miss Kicki decides to travel to Taipei and pay her online paramour a surprise visit. Not willing to travel alone, she invites her 16-year old son Viktor to join her on the trip, on the pretext that they need to get reacquainted after being separated for many years. But when Victor discovers the real purpose of the journey, Kicki has to prove to him (and herself) that she can become the mother he always missed.
Technical Information
2009; Sweden; Drama, Women; 85 minutes; 35mm, HDCAM-SR; 1:1.85; Dolby SRD; Original Language: English, Swedish; Subtitles: English, French, German; Dubbed Versions: German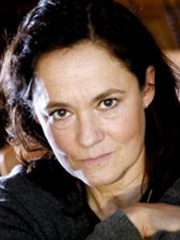 PERNILLA AUGUST
Pernilla August started acting as a child. In 1979 she was accepted at the National Aademy of Acting in Sweden. She attracted the attention of Ingmar Bergman who offered her a key role in his movie Fanny och Alexander (1982). She has acted in several notable plays, including William Shakespeare's Hamlet, Henrik Ibsen's A Doll's House, and Anton Chekhov's Three Sisters. In 1992 she won the best actress award in festival de Cannes for the film The Best Intentions directed by Bille August. Many in the English-speaking world know her best as Shmi Skywalker (the mother of Anakin Skywalker / Darth Vader) in the Star Wars prequel movies.
Selective Filmography
Feature Film
2012 Dom över död man
2012 Hamilton: I nationens intresse
2012 Call Girl
2005 Drabet
2003 Om jag vänder mig om
2002 Star Wars: Episode II – Attack of the Clones
1999 Star Wars: Episode I – The Phantom Menace
TV Series
2008 Star Wars: The Clone Wars